What is Targeted Alpha-emitter Therapy?
Regular PRRT which is authorised for use now, i.e. Lutathera/Lu177 is a beta therapy.  Targeted Alpha Therapy is based on the coupling of alpha particle emitting radioisotopes to tumour selective carrier molecules, such as monoclonal antibodies or peptides. These molecules have the ability to selectively target tumour cells even if they are spread throughout the body. They recognize the targeted cancer cells through antigens that are expressed on the cell surface and can bind selectively to these cells, similar a key fitting into a lock. In targeted alpha therapy these carrier molecules serve as vehicles to transport the radioisotopes to the cancer cells. This is called the "magic bullet" approach. Radioisotopes that emit alpha particles seem particularly promising to selectively destroy cancer cells. Alpha particles have a high energy in the range of 5-9 MeV and at the same time a very short path length in human tissue below 0.1 mm, corresponding to less than 10 cell diameters. Consequently, the use of alpha emitters allows the specific targeting and killing of individual malignant cells, while minimizing the toxicity to surrounding healthy tissue. Extracted from EU Science Hub
According to the clinical trials document, this drug addresses an unmet need in the field of peptide receptor radionuclide therapy (PRRT) for NETs. Substitution of an alpha emitter (e.g. ²¹²Pb) for the beta emitters currently being used (i.e., 177Lu or 90Y) will provide significantly higher Linear Energy Transfer (LET) and a shorter path length. Higher LET particles should cause more tumor cell death. Shorter path length should result in less collateral damage of the normal tissue and therefore less side effects for subjects receiving the drug.
What is the difference between 'regular' PRRT and the Alpha version?
From the scant 'patient understandable' information currently available, it would appear that alpha therapy has the potential to be more targeted and less toxic than beta PRRT – to me that seems like it would be able to target smaller tumours.  I also noted that alpha therapy is sometimes described as a 'radioimmuotherapy' or 'alpha immunotherapy', indicating the mechanism of action is significantly different to that of conventional PRRT. It was also described as a 'Trojan Horse' which would seem to hint at its immunotherapy credentials. I noted that TAT is also being studied for use in Prostate Cancer and Leukaemia.
The main effort for NETs is based on the use of two TAT radionuclides – 225Actinium and 212Pb
Clinical trials – 212Pb-AR-RMX
Update 3 Jan 2022. Radiomedix and Orano Med Announce the Initiation of the Phase II Multi-Center Clinical Trial of Alphamedix™ for Targeted Alpha-Emitter Therapy of Neuroendocrine Cancers
Read about Phase 2 by clicking here or on the picture below:

Background reading in addition to the Phase 2 trial above:  Phase 1 trial information
In 2018, RadioMedix Inc. and Orano Med initiated the Phase 1 trial for AlphaMedixTM in patients with somatostatin receptor (SSTR) positive Neuroendocrine Tumors (NETs) – an NIH supported trial.
AlphaMedixTM is composed of a somatostatin analogue radiolabeled with 212Pb, an isotope used for Targeted Alpha-emitter Therapy (TAT).  This open-label, dose escalation study's objective is to determine safety, bio-distribution, and preliminary effectiveness of 212 Pb-AR-RMX in adult patients with differentiated (sic) NETs. "Targeted Alpha-emitter Therapy (TAT) is the wave of the future in nuclear oncology and has a tremendous potential to treat patients with NET and overcome some of the limitations of current Peptide Receptor Radionuclide Therapy (PRRT)" said Dr. Ebrahim S. Delpassand, Chairman and CEO of RadioMedix, sponsor of the trial. They further announced on 21 Feb 2018 that the first patients had undergone some treatment.
Related articles:
Phase 1 Clinical Trial Document – Phase 1 Study of AlphaMedix™ in Adult Subjects With SSTR (+) NET – click here
Phase 2 document – Targeted Alpha-emitter Therapy of PRRT Naive Neuroendocrine Tumor Patients (ALPHAMEDIX02) click here 

Ornamed Website – click here
RadioMedix Inc Website – click here
Some advance info on the data from the Phase 1 trial results (quote from Dr Strosberg)
"Some exciting data on peptide receptor radionuclide therapy have been released with regard to the alpha particle–emitting isotope 212Pb–DOTATATE; this [treatment] was associated with exceptionally high response rates with the maximum-tolerated dose, which was discovered in the phase 1 study. Alpha emission is completely different from beta-emitting [radionuclide therapy], such as lutetium-177 (Lutathera)or yttrium-90; it delivers a much higher energy over a much shorter particle length. Although development may take more than a few years, I believe this [approach] has the potential to improve the therapeutic index that we are currently seeing with lutetium-177" Read the quote reference here.
This has been taken from the Radiomedix website: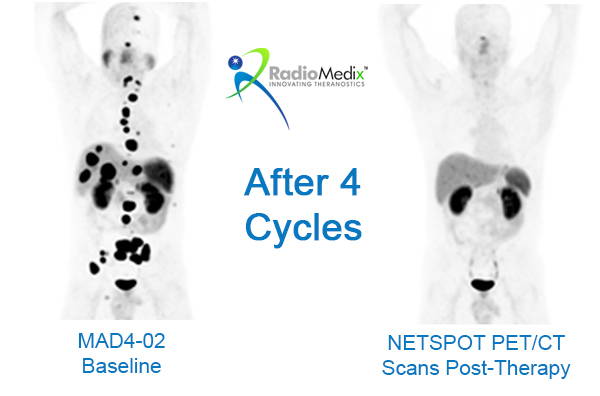 This summary was presented at ASCO 2021 as an abstract:
DOI: 10.1200/JCO.2021.39.15_suppl.4117 Journal of Clinical Oncology 39, no. 15_suppl (May 20, 2021) 4117-4117.
Conclusions: This F-I-H clinical study of AlphaMedix shows that PRRT with 212Pb is feasible, well tolerated, and provides substantial reduction in tumor burden to patients with unresectable, metastatic SSTR-expressing NETs. Dramatic improvement in tumor burden and a positive impact on quality of life were seen in all of the PRRT naïve subjects who AlphaMedix at the highest dose tested. 
AC225 Alpha PRRT in India – CNETS India website. 
Two nuclear medicine centres in India have started Alpha PRRT for NET patients.  World over, many clinical trials have established the benefit of PRRT for metastatic NETs. Alpha PRRT uses the more powerful alpha particle emitting agents, Actinium 225 or Bismuth 213, in place of Lutetium 177 or Yttrium 90, which are the commonly used beta emitters for PRRT, to target the somatostatin receptors expressed by the tumor cells. According to CNETS India, Alpha PRRT holds higher energy leading to higher efficacy and lower toxicity to normal tissues and hence lesser side effects as compared to the currently available Lu177 based PRRT. Currently Alpha PRRT is already available at two 'superspecialty' hospitals in Delhi and Bengaluru in North and South India, respectively.
Targeted Alpha Theranostics
Read about the involvement of Viewpoint Molecular Targeting (VMT) who are involved in a theranostic approach using TAT.  Presumably working with alongside Radiomedix 212Pb approach.  Read more here:
Update 27th July 2022
This real-world study from India using 225Ac and Capecitabine chemotherapy is interesting.  Read more by clicking here or on the photo below:


Update 15th June 2022
SNNMI Abstract of the Year: Targeted Radionuclide Treatment Achieves High Response Rate, Minimal Toxicities for Advanced-Stage Neuroendocrine Tumors
June 14, 2022
Reston, VA — A targeted radionuclide alpha therapy, 225Ac-DOTATATE, has been shown to have long-term anti-tumor effects in patients with advanced-stage gastroenteropancreatic neuroendocrine tumors (GEP-NETs). Results from the Phase II study showed promising survival rates, high response rates and an acceptable toxicity profile, making 225Ac-DOTATATE a potential treatment option for patients who have exhausted other forms of therapy. This research was presented at the Society of Nuclear Medicine and Molecular Imaging 2022 Annual Meeting and was selected as the meeting's Abstract of the Year.
Each year, SNMMI chooses an abstract that best exemplifies the most promising advances in the field of nuclear medicine and molecular imaging. This year, the SNMMI Henry N. Wagner, Jr., Abstract of the Year was chosen from more than 1,000 abstracts submitted to the meeting and voted on by reviewers and the society leadership.
GEP-NETs are rare malignancies that arise from neuroendocrine cells and can be present all along the gastroinstesinal tract. While patients with early-stage GEP-NETs can undergo surgery to cure the disease, the majority of patients are diagnosed with metastatic disease, making systemic treatment—such as targeted radionuclide therapy—their only option. 177Lu-DOTATATE has been proven to be an effective targeted beta radionuclide therapy; little evidence, however, is available on targeted alpha radionuclide therapies for GEP-NETs.
In the study, researchers aimed to evaluate the long-term efficacy, survival outcomes, and safety of the targeted radionuclide alpha therapy 225Ac-DOTATATE in GEP-NET patients. Eighty-three GEP-NET patients (including 56 patients with prior 177Lu-DOTATATE treatment and 27 177Lu-DOTATATE-naïve patients) received systemic treatment with 225Ac-DOTATATE intravenously at eight weekly intervals.
Hematologic, kidney and liver function tests were performed before and after each cycle. Tumors were measured using RECIST 1.1 criteria at baseline and after two cycle intervals. Overall survival, radiographic progression-free survival, objective tumor response, and treatment-related adverse events were assessed.
After the treatment course, two patients (2.7 percent) had complete response, 32 (43.2 percent) had a partial response, 25 (34 percent) had stable disease, and 15 (20 percent) had progressive disease. Minimal toxicities were noted after treatment with 225Ac-DOTATATE.
"225Ac-DOTATATE is a promising therapy option that adds a new dimension to the treatment of end-stage GEP-NETs, especially for patients who have tried all other standard therapy options," said Chandrasekhar S. Bal, MD, DNB, DSc (HC), FAMS, FNASc, FASc, professor and head of the Department of Nuclear Medicine and PET at the All India Institute of Medical Science in New Delhi, India. "These results warrant a Phase III randomized control trial to assess the true efficacy of 225Ac-DOTATATE versus 177Lu-DOTATATE."
"The results from this study not only emphasized the promise and success of targeted alpha therapies but also reflected growing global interest in these life-extending treatments," said Heather Jacene, MD, SNMMI Scientific Program Committee chair. "We look forward to further research on this topic in the future."
Source.  SNMMI 2022 conference
General Clinical Trials Disclaimer
Choosing to participate in a study is an important personal decision. Talk with your doctor and family members or friends about deciding to join a study. To learn more about this study, you or your doctor may contact the study research staff using the contacts provided in the clinical trials document. It's very important to check the trial inclusion and exclusion criteria before making any contact.  If you need questions, the articles here is very useful Questions to Ask About Clinical Trials | Cancer.Net
The inclusion of any trial within this blog should not be taken as a recommendation by Ronny Allan. 
Finally
Whenever I post about a trial or study, some people get excited without understanding that these new treatments and capabilities can very often take years to come to fruition and it's also possible that clinical trials can be halted, or that national approval agencies will not approve the final product.  Plus, not everyone will be eligible, so always check the exclusion and inclusion criteria in the relevant clinical trials document.   Please bear that in mind when reading studies/clinical trials posted on RonnyAllan.NET
Gastric NETs When I wrote my post entitled "Spotlight on Gastric Neuroendocrine Neoplasms", I explained what these were with some emphasis on the association with
Read More »