Subscribe to Blog via Email
Join 14.2K other subscribers
What are Duodenal Neuroendocrine Neoplasms (dNEN)?
The duodenum is technically part of the small intestine, and you can find that in most anatomy-based descriptions. One of the research references I used was titled "Somewhere between the pancreas and the small intestine" and in the case of Duodenal NENs (dNENs), I can understand why they adopted that unconventional anatomy description.  I suspect they contextually meant that they are not like either of these organs, but they share some similarities. 
They are not normally treated like small intestine NETs (SI NETs) or pancreatic NETs (pNETs) but they share some relationships, particularly wth the latter.  They are also closely aligned to the stomach (Gastric NENs) in terms of symptoms and syndromes that they sometimes present.  Although they are a type of NEN (i.e. dNENs), they can be grouped together with the stomach for certain scenarios, e.g. Gastroduodenal NENs. 
dNENs are classified into 5 clinical sub-types: non-functioning, functioning consisting of gastrinomas, somatostatinomas, serotonin-secreting, duodenal paragangliomas and poorly differentiated neuroendocrine carcinomas (NECs). 
Anatomy
Despite the contextual title of the very useful reference resource I cited above, the duodenum is in actual fact part of the small intestine and is between the stomach and the 2nd part of the small intestine (jejunum).  The graphic below shows how close the pancreas is to the duodenum, more on that below. 
The graphic shows the different parts of the duodenum with surrounding areas and may be useful to those patients with dNENs who are reading biopsy reports, scan results or surgical letters. 
Epidemiology
The duodenum is a rare diagnosis for NENs along the digestive tract.  NENs comprise 1% to 3% of all duodenal tumors and less than 4% of all gastrointestinal NETs.  They are a clinical entity unique from pancreatic and other SI NETs. Over the past three decades, there has been an increase in the incidence rate of dNETs, currently with 1.1 cases per 100 000 diagnosed annually in the United States.  It's worth emphasising that countries may have totally different incidence rates and I also found evidence to suggest the Japanese rates are four times higher than UK for example.  There are many factors involved and it could just be that Japan has a better cancer registry. According to Reference 2 cited below, dNENs are rare neoplasms with a reported incidence of 0.17 per 100,0001. They represent at least 2.7% of all NENs.
Older epidemiological studies reported the syndromic subtypes of dNENs (specifically the gastrinomas and the serotonin secreting NETs) as more prevalent than the non-functioning dNENs.  However, in the last 20 years an increasing proportion of non-functioning dNENs are found incidentally at endoscopy and are now the most prevalent sub-type. The average size of the dNENs at diagnosis has been reported to be between 1.2 cm and 1.85 cm in previous studies. The incidence of lymph nodes has been reported as high as 40–60%, with liver metastases seen in 10–15%.  Other previously identified significant factors in the prognosis of these neoplasms include depth of invasion, size and mitotic activity. Tumours below < 1 cm are rarely associated with distant metastases and local lymph node involvement is seen in less than 5% of patients. Invasion of muscularis propria and high mitotic rate are associated with higher risk for metastatic disease.
Syndromes and dNENs
So called 'carcinoid syndrome' is rare in dNENs, mostly due to the low stage and curative surgery approach.  But any manifestation of carcinoid syndrome would be similar to small intestine NETs, e.g. almost always in metastatic cases.
However, in the case of gastrinomas, a distinct syndrome known as Zollinger-Ellison Syndrome (ZES) is almost always secondary to these tumours. 
Hereditary connections/Syndromes
Around 40% of Gastrinomas are found in the duodenum, most of the remaining 60% are found in the pancreas.  Around 25% of Gastrinomas are related to Multiple Endocrine Neoplasia (MEN1).  Mutiple primaries in the duodenum can often be a sign of a MEN1 related Gastrinoma. 
It's possible that rare instances of a duodenal paraganglioma could be related to hereditary Pheochromocytoma/Paraganglioma Syndromes such as NF1, VHL, MEN2.
Guidelines
There are numerous clinical practice guidelines on management of dNETs where management of these tumours is stratified according to risk of locoregional and distant metastasis. NCCN and ENETS cited below.  Compared to other NENs, guidelines for dNENs appear scant and lack consensus (author's opinion only, I'm not a doctor).
NCCN
Most small dNETs can be removed with curative intent with only endoscopic surveillance going forward (Reference 6).  If "invasive", surveillance using conventional imaging (e.g. CT/MRI) can be used with more frequent checks in the short and long term (Reference 6 – page NET-8).  Treatments are factored in if either functional or non-functional. (Reference 6 – Page NET-2).  Metastatic cases may require additional treatment (e.g. somatostatin analogues and targeted therapies; and wider surveillance (Reference 6 – page NET-9).
ENETS
Info for dNETs is scant and I suspect these guidelines are in need of review. The algorithm provided points to a size approach with a rising level of endoscopic/surgery surgical intervention the bigger the primary tumour(s) is. 
NEC/MiNEN
Guidelines for dNEC and MiNEN involving duodenum will be similar to other NEC and MiNEN.
Ampullary NENs (Ampulla of Vater)
The ampulla of Vater is a small opening that enters into the duodenum and is the spot where the pancreatic and bile ducts release their secretions into the intestines. These tumour types tend to be included within the dNEN grouping.  NETs of the ampulla of Vater are sporadic and comprise only <0.3% of gastrointestinal NETs. However, the frequency of duodenal NETs involving the ampulla of Vater is increasing owing to improved instrument quality.  I include this section because I see one or two cases in my group.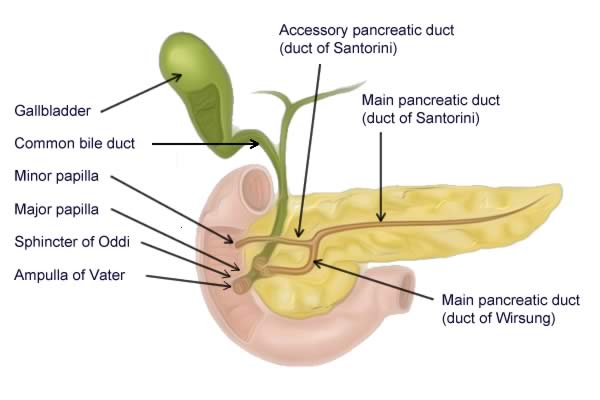 The main difference is the complexity of the surgery. 
Disclaimer
I am not a doctor or any form of medical professional, practitioner or counsellor. None of the information on my website, or linked to my website(s), or conveyed by me on any social media or presentation, should be interpreted as medical advice given or advised by me. 

Neither should any post or comment made by a follower or member of my private group be assumed to be medical advice, even if that person is a healthcare professional.   

Please also note that mention of a clinical service, trial/study or therapy does not constitute an endorsement of that service, trial/study or therapy by Ronny Allan, the information is provided for education and awareness purposes and/or related to Ronny Allan's own patient experience. This element of the disclaimer includes any complementary medicine, non-prescription over the counter drugs and supplements such as vitamins and minerals.
We can survive without a gallbladder, but clearly it is a useful, functioning organ, and we are better off to keep it if we can.
Read More »
Subscribe to Blog via Email
Join 14.2K other subscribers
A cup of tea

I would also mention those who contributed to my "Tea Fund" which resides on PayPal.  You don't need a PayPal account as you can select a card but don't forget to select the number of units first (i.e. 1 = £4, 2 = £8, 3 = £12, and so on), plus further on, tick a button to NOT create a PayPal account if you don't need one.  Clearly, if you have a PayPal account, the process is much simpler 
Through your generosity, I am able to keep my sites running and provide various services for you.  I have some ideas for 2023 but they are not detailed enough to make announcements yet. 
This screenshot is from every single post on my website and depending on which machine you are using, it will either be top right of the post or at the bottom (my posts are often long, so scroll down!)