This newsletter covers a busy November with a look ahead for December and beyond.  October 2020 was manic, but November was just as manic but in a different way.  It was also a better month in terms of growth (increased viewing statistics etc).
In UK. most of November had been under new COVID restrictions but due to the weather this time of year, I was not able to exploit that as much as the first lockdown in April/May.  Despite that, I'm built for lockdowns due to a 'regimented' upbringing in the military, so was able to stay busy and relaxed when needed. Still managed to get a few walks and cycles now and then and it's sunny here on 1st December!  
The newsletter is now divided into several sections:
1. External news of interest.  A shortlist of things I picked up on my social media travels.

2. A bit of inspiration.  Something which was extremely popular with my following and I wanted to share with you this month.

3. External projects – what I've been up to away from my own social media but also related to NETs.

4. Coping with Lockdown & Personal Summary.

5. November blog activity.

6. Website and social media updates from RonnyAllan.NET.

7. Summary and look forward.

8. Some posts needing love.
External news of interest
News about Neuroendocrine Cancer is starting to pick up and this has been reflected in some of my newer blog posts and miscellaneous posts on my Facebook pages.  Here's what I picked up during November from my google alerts, from direct contact or from twitter (the latter is a key source for me to hear about what's happening).
1. COVID Vaccines.  At least 3 vaccines are looking good for approval soon and although this does not treat Neuroendocrine Cancer, it does a big effect on how we live with cancer.  Looks like another 5 or 6 months before any semblance of normality.  I had a letter from the Government confirming I'll be in the fourth priority cohort for the vaccine.  Based on cost alone, AZD1222 (Oxford) looks like something for the masses.  And the same pharma involved in AZD1222 is working on something aimed at people with a weakened immune system who cannot be vaccinated. The first patient to trial the drug is from UK – click here.
2. Multi Cancer Diagnostic Blood Test.  I'm actively investigating details of the Galleri test, developed by GRAIL, can detect early-stage cancers through a simple blood test, and will be piloted with 165,000 patients in a world-first deal struck by NHS England.  I doubt it will specifically mention Neuroendocrine Cancer, these things tend to be anatomy based.  However, when I know, you will know. Click here.
3.  Podcast from UK Gastroenterologists.  The main reason I include this is because it emphasises the ongoing quality of life support many NET patients need, something we don't hear much from healthcare professionals – this is a huge unmet need.  Great listen if you have 20 minutes. Click here.
4.  My Contribution to NC UK's Summit.  I was asked to make a video for World NET Day and the output of that is here. The subject is "How to become your own expert".  Click here.
5.  World NET Day was held but it was another wasted opportunity to move into 2020.  I posted this on 10th Nov:
A bit of inspiration
A feelgood story which perked me up. The story of Perpetual and her premature twins and COVID. Read here.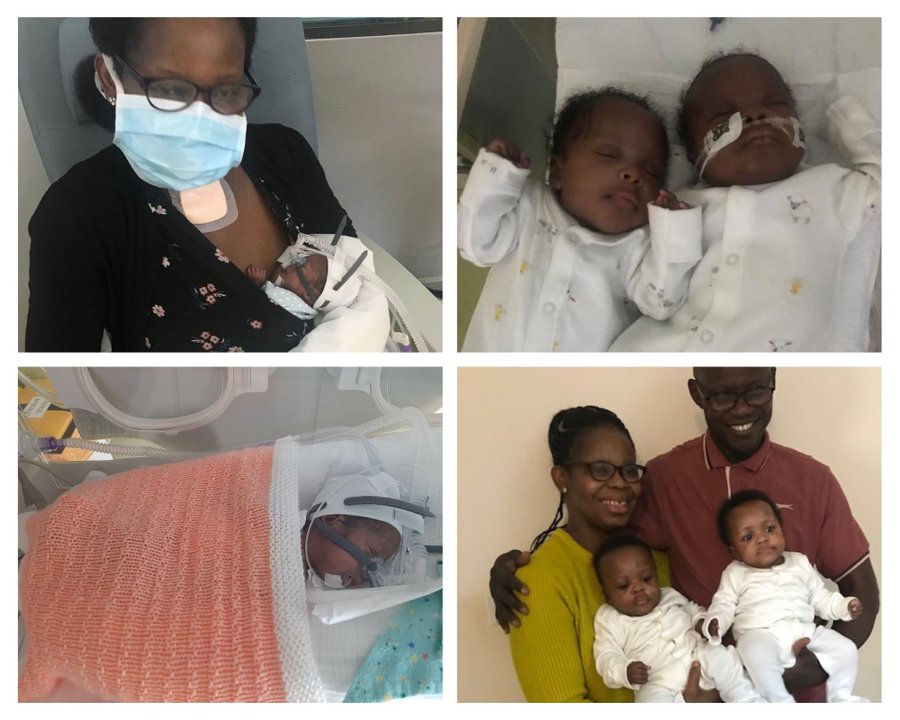 External Projects
Away from my own social media activity, I've been extremely busy elsewhere and do not understand how I find the time!
I was a presenter at the online NET conference organised by the Middle East NET Society (MENETS). This was a virtual online event where the speakers were well known NET Specialists and for a change – patients and caregivers.  Incredibly grateful to my friend Mike Rosenberg for inviting me to speak. My video is here.



Click picture to watch video




I made a World NET Day video for Neuroendocrine Cancer UK (formerly known as NET Patient Foundation) – The subject is "How to become your own expert".  Click here.

Click the picture to watch video
Coping with lockdown/Personal Summary
Mental health can be as important as physical health in times of stress and anxiety, so I continue to take to the outdoors to tell my story of how I cope. Of course, the outdoors is also a garden (yard) and so that counts too!  Back in March I told the story of my own symptomatic period and perhaps one day I might find out if I have antibodies when I'm tested accordingly – you can read this COVID-19 diary by clicking here. I also chronicled a series of adventures after coming out of my own self-imposed lockdown.  This can be found by clicking here (final episode with the other episodes linked inside).  And I've been continuing that outdoor exercise them through 2020 on my page Ronny Allan.
Already planning for visual story campaigns for 2021 due to demand for this sort of theme.  Thanks for the inspiration. 
I'm going to attempt walking one thousand miles in 2021 – stay tuned for news.  
In November, I had my blood tests and scans ready for a consultation on December 9th.  My blood tests received so far are good (routine blood counts etc).  I had a morbid 2 weeks between 11th and 25th November after losing my 45-year-old wedding ring and assumed it was out on the forest somewhere.  I was tormented by my own stupidity and carelessness.  The ring was happily found but in the most unbelievable place. Click here to read the story. 


November Blog Activity
I managed to write or update quite a few blog posts, hopefully a further sign of getting back to normal. In case you missed any, check them out here and they also include older ones with a major update:
Click on the pictures or blog titles to view:
The A to Z of Neuroendocrine Cancer  Finally got to Z but a lot of validation and linking up is still required. Work in progress but very usable.  I do hope you'll support this database; it's taken weeks of work!

Ever wondered what caused your NET?   An older post but dusted it off and it was very popular, most read blog post for around 3 days last week.
Hope US peeps had a safe thanksgiving? – I only post this once a year and contains some science!

If it's not raining, it's not training!  Inspired by Facebook memories and the inclement weather in UK, I pondered how to get through the autumn and winter after such an active spring and summer.
Social Media Update
Website. Some of you will also have noticed a change in the layout of my website to include more menus for easier navigation and more sharing buttons to help you share what you like and find useful for others. Thanks, especially if you're using them already. If you wanted to practice, you'll see them at the top and bottom of this newsletter – share away!
Twitter. I'm quieter on twitter which I'm finding quite depressing – I hadn't realised how many trolls there on that medium but I guess many people remain frustrated by COVID-19 and many other political issues. Even worse, I had to block certain NET related accounts which were affecting my mental health.  Still sharing my twitter newsletters though – sign up here.  Am looking for twitter users who would like to provide mutual support for like-minded campaigns. Message me please.
Email Newsletters.  I'm still learning how to release newsletters like this one plus other ad hoc stuff, I should have that in place by the next monthly iteration – look out for a new email template, then you'll know!  You can sign up for these newsletters in the form elsewhere in the side or bottom of the post – it takes around 5 seconds!  I also have my twitter newsletter in place, and you can subscribe to that here.
Instagram.  Did you know I had an Instagram account and mostly use it for posting inspirational scenic pictures!   Check it out here.
Pinterest.  Did you know I was also on Pinterest? Point, click, read. Easy-peasy lemon squeezy 
 Click here or the photo

Facebook.   Ask me about my two pages. 

Neuroendocrine Cancer Definitions.  I continue to work on my A to Z facility and making progress, around 90% complete, although I now completed the definitions I already had recorded as 'tags'.  It's quite usable if you just wanted to find an article containing a particular term. I'm currently getting rid of unwanted terms and updating new ones to link to my website.  Try it out, you might be surprised. In the database, click a term and it will currently take you to the posts containing that 'tag' and where I've populated so far, a short explanation. The A to Z of Neuroendocrine Cancer