Overview
Many thanks for the support in February both on public pages and in my group – in fact the group's statistics are totally booming – that is helping a lot of people.  My public sites still need some work and I'm hoping you can help with that.  Of course, it's not helped by my finger injury which is holding me back. Read more about that problem below.
Monthly update follows
The newsletter is now divided into several sections:
1. External news of interest.  A shortlist of things I noticed on my social media travels.

2. A bit of inspiration.  If you read nothing else, read this bit!

3. External projects – what I've been up to away from my own social media but also related to NETs.

4. Coping with Lockdown & Personal NET Summary.

5. December blog activity.

6. Website and social media updates from RonnyAllan.NET.

7. Summary and look forward.
External news of interest
News about Neuroendocrine Cancer continued in February and this has been reflected in some of my newer blog posts and miscellaneous posts on my Facebook pages.  Here's what I picked up last month from my google alerts, from direct contact or from twitter (the latter is a key source for me to hear about what's happening).  There continues to be a flurry of NET stuff appearing which is positive for the rest of the year. 
1. SSTR PET Antagonists.  Exciting to see SSTR PET antagonists enter the clinical arena as an imaging modality, a comparison with gallium-68 dotatate. Read more here. 
2.  Nice update from ENETS in regards immunotherapy. Will try to get whole presentation downstream.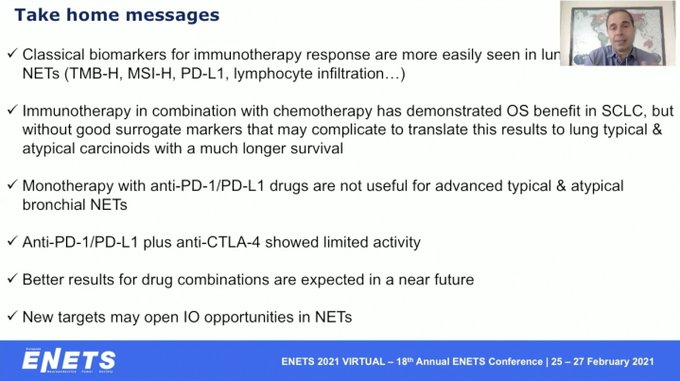 3.  Endocrine Related Cancer Magazine reported that 3 of its most cited articles in 2020 were related to NETs. We are gradually going mainstream, it's a good thing.  Read the article here. 
4.  The ENETS annual conference took place last week, I will review the agenda shortly and bring you selected news of interest.  
A bit of inspiration
Despite the terrible news continuing in the press for many, the vaccines are being rolled out, but it will take time. Nonetheless, this is a positive and while it will not mean a person can suddenly go about their business as normal, each vaccination takes up a step forward to getting out of this mess we're in. It's been a long road and since last March, I don't believe many people thought we would still be in major lockdown in the third month of 2021. The light at the end of the tunnel is brighter and we now have HOPE. To play my part in the recovery, I was happy to get my first vaccine on 31st January 2021 – read more here. 

External Projects
Away from my own social media activity, I've been extremely busy elsewhere and do not understand how I find the time!
I was asked to make some videos for a well known pharma, this is ongoing.
I made some videos some months ago for Ipsen and they have now been published. The aim was to give my patient view on coping with COVID as a NET patient. You can watch these short videos here. 
Older job but an important piece of work for me.  I was a presenter at the online NET conference organised by the Middle East NET Society (MENETS). This was a virtual online event where the speakers were well known NET Specialists and for a change – patients and caregivers.  Incredibly grateful to my friend Mike Rosenberg for inviting me to speak. My video is here.

Click picture to watch video

Older job but important piece of work for me. I made a World NET Day video for Neuroendocrine Cancer UK (formerly known as NET Patient Foundation) – The subject is "How to become your own expert".  Click here.

Click the picture to watch video
Coping with lockdown/Personal NET Summary
Personal NET Summary
I appear to be stable in terms of cancer and scheduled for a Ga68 PET/CT in July in London.  Working with my dietitian to get some of my vitamins into normal range plus but I have spikes in Triglycerides which is under investigation.  My blog post on "Lipids: The NET Effect" will be published this month.
I have damaged a finger – big problem for a blogger!  I have what is known as "Mallet Finger" (in US, often called Baseball Finger) and in my case the tendon is stretched at the end joint of my middle left finger. I must wear a split for 8 weeks changing it weekly, then any further treatment will be assessed. Best case physio, worst case surgery.

28th Feb was the 9th anniversary of my third surgery – lymph nodes in the armpit? Read more here – click here or on the photo:


Coping
Mental health can be as important as physical health in times of stress and anxiety, so I continue to take to the outdoors to tell my story of how I cope. Of course, the outdoors is also a garden (yard) and so that counts too!  Back in March 2020 I told the story of my own symptomatic period and perhaps one day I might find out if I have antibodies when I'm tested accordingly – you can read this COVID-19 diary by clicking here. I also chronicled a series of adventures after coming out of my own self-imposed lockdown.  This can be found by clicking here (final episode with the other episodes linked inside).
I've been continuing that outdoor exercise them through 2020/2021 on my page Ronny Allan.  Already planning for significant visual story campaigns for 2021 due to demand for this sort of theme.  Thanks for the inspiration.
Walking one thousand miles in 2021  
As some of you know, I set myself a target of 1000 miles of walking in 2021. This is part of a bigger program in UK and I thought it was something I was capable of doing. There are several spin-offs including my own fitness, my own mental health (and that counts for Mrs A too) and provides some input into writing motivational travel and fitness posts for others to read.  In February, we covered a further 80 miles, and we are now 24 miles ahead of schedule. So, we have some reserve in case of lean times in the future when we are unable to participate sufficiently.
Social Media Update
Website. Some of you will also have noticed a change in the layout of my website to include more menus for easier navigation and more sharing buttons to help you share what you like and find useful for others. Thanks, especially if you're using them already. If you wanted to practice, you'll see them at the top and bottom of this newsletter – share away!
Twitter. I'm quieter on twitter which I'm finding quite depressing – I hadn't realised how many trolls and bullies there on that medium but I guess many people remain frustrated by COVID-19 and many other political issues. Even worse, I had to block certain NET related accounts which were affecting my mental health.  Still sharing my twitter newsletters though – sign up here.  Am looking for twitter users who would like to provide mutual support for like-minded campaigns. Message me please.
Email Newsletters.  I'm still learning how to release newsletters like this one plus other ad hoc stuff, I should have that in place by the next monthly iteration – look out for a new email template, then you'll know!  You can sign up for these newsletters in the form elsewhere in the side or bottom of the post – it takes around 5 seconds!  I also have my twitter newsletter in place, and you can subscribe to that here.
Instagram.  Did you know I had an Instagram account and mostly use it for posting inspirational scenic pictures!   Check it out here.


Pinterest.  Did you know I was also on Pinterest? Point, click, read. Easy-peasy lemon squeezy  Click here or the photo

Facebook.   I have one of the biggest private Facebook support groups in the world, you can join below – see green button. 
Please also support my public pages, it really helps.  (do not unlike by mistake!).
Site 1: Neuroendocrine Cancer – click here
Site 2: Ronny Allan – click here
Neuroendocrine Cancer Definitions.  I continue to work on my A to Z facility and making progress, around 90% complete, although I now completed the definitions I already had recorded as 'tags'.  It's quite usable if you just wanted to find an article containing a particular term. I'm currently getting rid of unwanted terms and updating new ones to link to my website.  Try it out, you might be surprised. In the database, click a term and it will currently take you to the posts containing that 'tag' and where I've populated so far, a short explanation. The A to Z of Neuroendocrine Cancer
Some posts needing love:


| | | |
| --- | --- | --- |
| Neuroendocrine Cancer Nutrition Series Part 4 – Food for Thought? | | 9,637 |
| Surgery for Neuroendocrine Neoplasms – to cut or not to cut? | | 9,596 |
| Neuroendocrine Cancer – the diarrhea jigsaw | | 8,810 |
| I bet my flush beats yours? | | 8,423 |
| Neuroendocrine Cancer and Pancreatic Enzyme Replacement Therapy (PERT) – the Digested Version (Nutrition Series Article 5) | | 8,202 |
| Ever wonder what caused your Neuroendocrine Cancer? | | 7,903 |
| "You must be doing OK, you've not had chemotherapy" | | 7,807 |
| Chemotherapy for Neuroendocrine Cancer | | 7,735 |
| Neuroendocrine Cancer – don't break my heart! | | 7,669 |
| Neuroendocrine Cancer is not a 'type' of another Cancer ….. PERIOD! | | 7,620 |
| Neuroendocrine…..the little suckers get everywhere! | | 7,453 |
| Genetics and Neuroendocrine Tumors | | 7,435 |
| I'm still here | | 7,400 |
| Neuroendocrine Cancer: Ga68 PET Scan – a game changer? | | 7,381 |
| Somatostatin Receptors | | 7,198 |
| RIP Irrfan Khan | | 7,170 |
| Immunotherapy: Studies with Neuroendocrine Neoplasms | | 7,013 |